The Monthly and Annual spending Plan worksheets located on pages 14 & 15 in the Cultivating your Farm's Future workbook can be used to attribute expenses to the household and farm. If preferred, an Excel spreadsheet version of the worksheets calculates the percentages and totals.  In a farm succession, these worksheets can be used by both the owner and successor generation. For many farm households, there are expenses that are both farm and home related. For example, electric bills and property insurance may not be separated for the house versus farm buildings.
Monthly and Annual Spending Plan – Part 1 focuses on household expenses and debt/loan payments.
Household Net Income
As you consider who's paying for those family expenses, you also need to review income sources. You can do that by completing the section on household net income.
Is there off farm income that you are or will be receiving?
Are there social security or investment payments that you are or will be receiving as additional income streams?
Are you receiving or going to require a draw from the farm that would be on a monthly or annual basis?
Would that payment be irregular or would it be regular, for example as a land rental payment? In the past few years, those rental payments may not have been paid due to reduced farm profits.  As the recipient of that payment, would you be able to allow the farm to defer that land rental payment to another year until the farm would be more profitable? Depending on your family living needs, that may or may not be an option for you.
Compare Total Monthly and Annual Spending and Income
Finally, you should compare the total monthly and annual family expenses and debt payments with family monthly and annual income. These two worksheets will provide you with estimated family expenses that will not be paid by the farm and income that may or may not support these expenses. Your next step would be to determine if your income and expenses will be increased or decreased during your transition and how this may impact the farm in the future.
Historical Farm Family Household and Personal Expenses
When estimating family living needs, you should research historical data such as the information provided by the Center for Farm Financial Management at the University of Minnesota . This chart was created from their FINBIN database and represents all enterprises including crop, dairy and livestock farms. There are several states represented in this dataset, including Wisconsin and Minnesota farms, collected in 2016 through 2019.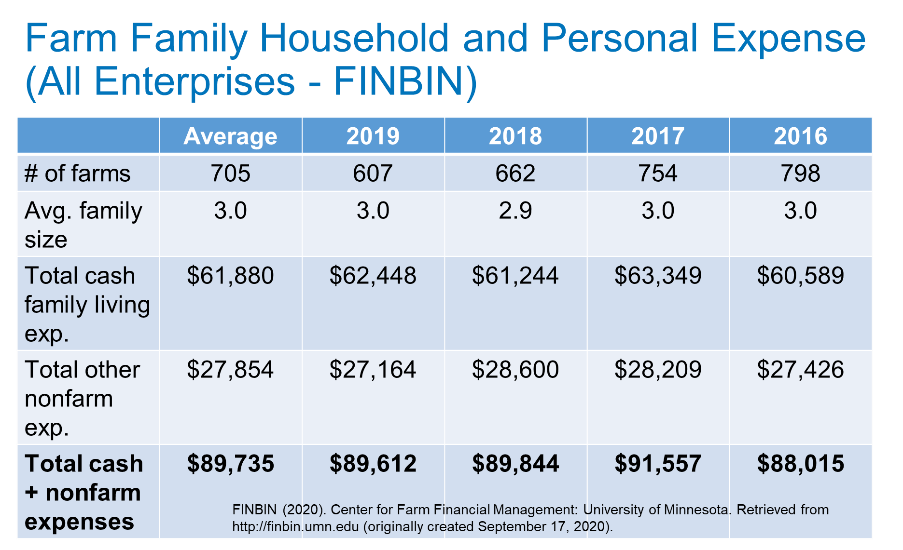 As you review the four years of farm family household and personal expenses listed in the chart, you may be surprised by the total cash and nonfarm expense amounts. Total cash family living expense encompasses food & meals; health, life & disability insurance; household supplies and recreation expenses. The average cash family living costs for the past four years was $61,880. Other nonfarm expenditures averaged $27, 584 the past four years and include income taxes, furnishings, savings or investments, and other non-farm big ticket items.  These expenses have remained relatively consistent over the four  years in the chart.  Individuals do need to keep in mind the total cash and nonfarm expense of $89,735 when realistically calculating their own household and personal expenses.