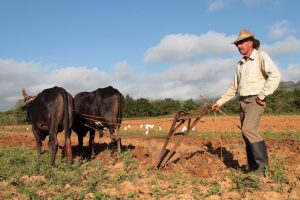 Tractors and other types of mechanized farm equipment are relatively new. For tens of thousands of years, food production and other tasks were performed by human hands. About 6,000 years ago, people began to domesticate animals like oxen to perform heavy tasks such as plowing the soil. Eventually, horses and mules became the go-to work animals for most farm chores.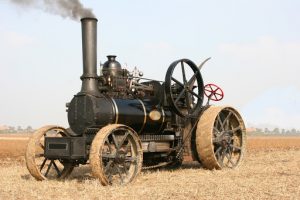 "Powered" technology on farms did not fully emerge until the 1800s. The first steam engines were designed in England in the 1700s and were first used for farming purposes in 1818. The steel plow as we recognize it today was invented by John Deere in 1837. Large and extremely heavy stationary steam engines transformed many industries and allowed a single machine to do the work of several hundred people or animals. Steam engines often were moved from farmstead to farmstead to power stationary machinery, like threshers used to separate grain from straw. However, steam engines were expensive, very heavy, difficult to maintain, and often dangerous to operate.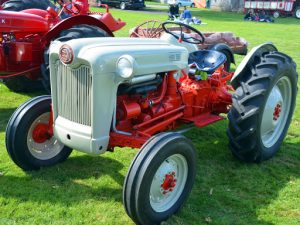 By the early 1900s, a number of manufacturing companies began to manufacture smaller, more versatile tractors in a form that we would likely recognize today. Tractors combined the ability to harness a tremendous amount of power with the mobility and other benefits that animals provided. Horses were still commonly used on farms into the 1940s and 50s, and are still used in parts of the country today by members of the Amish community and other groups.
Since the early 1900s, tractors and other mechanized farm equipment have changed. For example, tractors went from first having steel wheels to having rubber tires. Rubber tires allowed tractors to travel on roadways without damaging the road and made for a more comfortable ride for the operator. Engines were originally powered with gasoline, but then diesel fuel became more prevalent. Many safety advances came in the 1960s through the 1970s including lights and marking needed for safe highway travel and rollover protective structures. More recent advances have included a greater focus on operator comfort and ergonomics. Modern farm machines often include more high-tech features, including sensors, computerized control systems, and GPS.
When you're in the market to buy a used tractor or other piece of equipment, you'll likely notice the differences in features between older and newer models as you look through sale listings.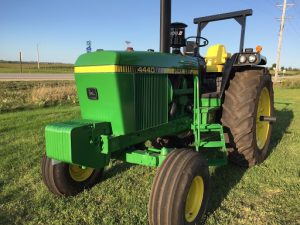 The good news is that despite all of these changes and the evolution of mechanized technology used in agriculture, tractors and other types of farm equipment are generally built to last. It's common to find tractors that were manufactured in the 1940s or 50s used on a daily or weekly basis. Older farm equipment that is well-maintained can be fully functional though it may lack more modern and important safety, comfort, or technology features.
You may be a beginning farmer with a few acres, or a property owner in search of equipment to help you maintain a large yard or house recreational animals like horses. Sure, you can go to an equipment dealer and buy a new tractor or other machine you feel you might need to get jobs done. However, a new compact utility tractor may cost $20-$30,000, or considerably more.
Buying a used tractor or other machine does present a few important risks that you should consider. But if you shop carefully and thoughtfully, you'll likely find a used machine a decade (or more) older for just a few thousand dollars that will do all the jobs you need it to. It's important to consult with available resources and consider a range of factors before making final decisions. This includes evaluating your specific needs and penciling out the economics of your different options.
You also need to consider factors like a machine's condition; the presence of safety features; and service and parts availability. This series of articles will address these factors and more to help you make an informed decision when purchasing used equipment.
References: