Prospective farm equipment buyers today have several sources for finding the right machine for their operation. Whether you're looking online or checking out a tractor for sale on the side of the road, keep in mind these tips:
Research the make and models' weak points – the internet and social media forums organized around a particular brand can be good starting points for this
Research parts availability
Be aware of a seller's motivation for selling
Never buy sight unseen
The widespread use of the internet and mobile devices has revolutionized equipment buying. We are now able to source machines from other states or even countries. Sellers can list items on platforms for free or a small fee and with search technology a buyer is more likely to find the best fit in machinery. By mastering the terminology of the equipment, a user can quickly narrow down a search.
Be aware of differences in regional terminology for equipment. For example, a skid steer loader may be referred to as a "Bobcat", "skid steer", "skidder" or even "SSL". There can also be variances in how a particular machine is spelled, e.g., disk vs disc. Using multiple search terms can help expand your search.
It is also helpful to know how common features are described. When searching for a tractor with all-wheel drive, you may have to enter several terms as different manufacturers had different names for this feature. A tractor with equal sized tires both front and back where all four wheels are applying power to the ground anytime the tractor is in motion is a true four-wheel drive although an older term for these is "four-wheeler". However, some people call tractors marketed for utility and row crop purposes "four-wheel drive" if the front wheels have the ability to apply traction to the ground as well the back. Other common names for row crop tractors with this feature are "mechanical front wheel assist" or "mechanical front wheel drive". This feature may be abbreviated as MFWA, FWA, MFD, or MFWD.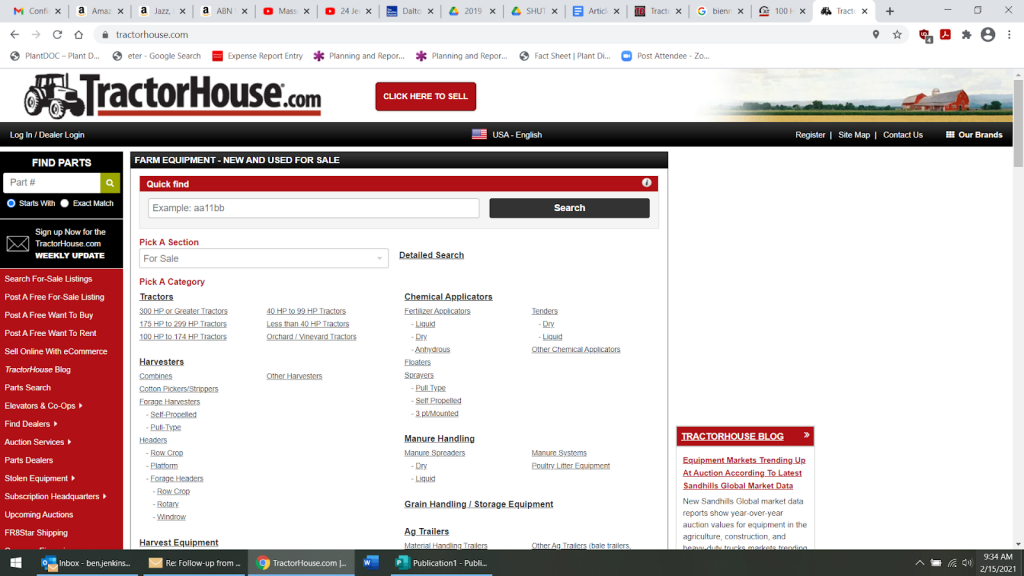 Online Classifieds
Online classifieds, such as Craigslist, allow sellers to post free ads for anything that they are trying to sell. The advantage to a site such as Craigslist is that a seller can upload pictures to entice a potential buyer. These types of platforms are easily accessed by scammers. If the price seems too good to be true, it probably is. A way to avoid trouble with a transaction is to have some dialog over the phone with a seller before looking at it in-person. Never send a seller payment without first seeing the item to purchase.
Social Media
Social media classifieds have become popular in recent years. Platforms like Facebook offer several advantages over the typical classified ads.
On Facebook, you can join group forums of like-minded farmers, organized around brands of equipment, types of farming, or a local area. These groups are particularly helpful in locating tools and equipment. Even after a purchase is made, joining a group focused on your make or model of machinery is helpful in getting tips for equipment maintenance.
Outside of the group forums there are the social media classifieds. Users find these easy to use because they have all the same features as the online classifieds, but you can quickly and easily set up a dialog with the seller through chat. Often you can see the profile of the seller to get a sense of who you are dealing with. Again, one should never commit to a purchase before viewing the machine onsite.
Online Auctions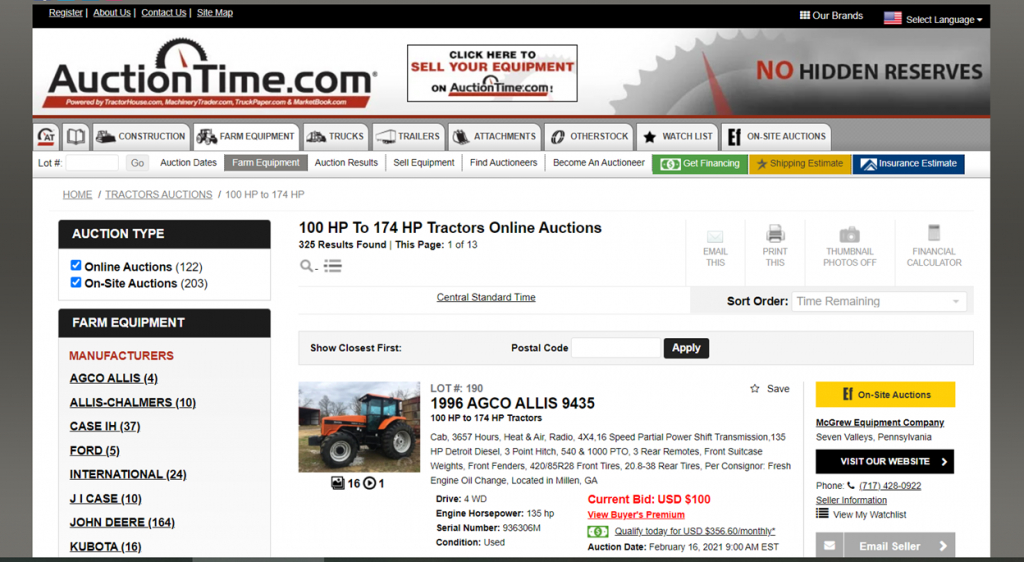 There are two types of online auctions: live and timed. Timed auctions present an interesting challenge in that they may end at a peculiar time. This is important to note because it is usually in the last few seconds of the timed auction that the most bidding happens. To be successful in a timed auction, as is in any online auction, a good high-speed internet connection is critical.
Most internet auctions will utilize an auction platform such as HiBid. These platforms offer the user to set up an account to use on multiple auctions hosted by multiple auction companies. After an account has been created the user simply logs in for each auction that the user wishes to participate in thereafter. Whether it be a timed auction or a live auction, many sites allow a user to set a bid limit, enabling the program to automatically bid on a user's behalf, stopping only when the limit is reached.
Many auctioneers will set up a time for pre-bidding allowing bidders to get a head start. The pre-bidding phase is often a good indicator of how much competition there will be for an item on the day of the sale. If the auction will be held onsite as well as live streamed, the auctioneer will take the highest pre-bid price and start the live bidding from that point. If the pre-bid is high enough there may not be anyone who wishes to bid against it and the highest pre-bid will stand.
Even though one can bid into any auction anywhere using the online platforms, it is still a good idea to preview the items being sold before bidding. Previewing will allow a potential buyer to see what issues the piece may have and price out any needed maintenance before bidding. If a particular tractor normally lists on a dealer lot for $20,000 but needs $6,000 worth of work, a bidder might think long and hard about bidding more than $12,000 for that tractor. Having knowledge about the makes and models and their weak points can aid in this.