Compared to hand and horse-powered labor, tractors perform most tasks around the farm more efficiently, in less time, and involve less physical labor. Knowing what jobs tractors are and are not intended for can help you decide if one is necessary for your operation.
A tractor's purpose
Tractors can serve as pulling machines for wheeled implements like wagons when attached to the drawbar. A tractor's three-point hitch provides extra capacity for traction and adjustments while carrying implements that can be raised and lowered. Tractors are not typically designed to safely pull stationary objects, unless equipped with a specialized attachment, such as a winch.
Tractors can provide power to attached equipment, delivered through a power-take-off or hydraulic system. They can power both stationary equipment – such as grain augers or wood splitters – and mobile machines, including hay balers, mowers, and choppers. Providing remote power to attached implements is a huge benefit of tractors, but is a feature not without risks. The point of attachment between the tractor and implement it is powering is often the location of fast-moving parts, which can become a point of injury if not covered by a physical guard.
The addition of a front-end-loader makes tractors a useful tool for handling and moving materials, like feed and manure. Front-end-loaders are not intended for moving people. Front-end-loaders change a tractor's center of gravity, and can increase the risk of a tractor overturn if raised too high.
Consider your needs
Take some time to make a list of the tasks on your farm that require a tractor or could be done more efficiently with a tractor. Since you may be purchasing a tractor that you might be using 10 years from now, it's important to think about today's needs, but also what those needs might be in the future.
Some tractor considerations by type of operation
If you are a rural property owner:
A log splitting attachment will require access to a tractor's hydraulic system auxiliary lines or PTO
Snow removal can be done with a variety of rear or front mounted attachments; consider an enclosed cab if you plan to operate in winter frequently
Transporting materials may require a front end loader
If you are a market farmer:
Ergonomic features will be key as market farming generally requires frequent mounting and dismounting
Consider distance from the seat to the ground, step position, and handholds
If you have livestock:
One machine will likely allow you to perform most chores
Consider ergonomic features for frequent mounting and dismounting during operation
Visibility, comfort and traction are important to consider since you'll likely be operating year-round
Before heading out to purchase a used machine, think about the existing relationships with neighbors and nearby family members. Are there farm tasks you could do in partnership with them? Do they have equipment you could borrow occasionally from them, or jobs you could hire them to perform? Perhaps you have equipment or other specialized skills you could trade for use of their equipment. This will help you further focus your list of tasks and needs in a potential tractor.
Consider your property, people, and infrastructure
Continue your pre-purchase considerations by thinking about the where, when, and who of your operation. This will help you determine what features to look for in a tractor.
Your property and facilities may have an impact on the features of your tractor. Consider the width of your driveway, access roads, and areas you'll be working in frequently. Are there tight spaces you'll need to pass through or under? If so, this will factor into the size of your tractor.
It's always wise to avoid operating on or near slopes and hillsides. Tractor rollovers are a common occurrence and are by far the biggest contributor to farming being the nation's most deadly occupation. If the needed work requires operation on slopes, wide-set wheel spacing, four-wheel drive, and/or front wheel assist will be a desirable feature. Also, consider storage space and location. A tractor stored indoors or under a roof will be easier to maintain and will hold its value longer than something stored outside.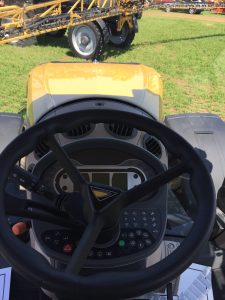 Think about who will be operating the tractor. Their age, experience, and physical abilities can help determine key ergonomic features to look for. Generally, it is not recommended that school-age kids operate tractors or other complex, powered machinery. Training programs for teens are often available to acquaint them on safe operation. Most machines are designed with grown adults in mind, so seat adjustment is a must for shorter operators, and while common on new tractors, may not be present on older models. A simple instrument panel and color-coded controls may be important features for inexperienced operators.
Comfort is another consideration. If you'll be operating frequently in hot or cold weather, an enclosed cab with climate control will make operating much more enjoyable. An enclosed cab also offers some protection from the noise generated by the tractor engine. A cab that is well sealed and is equipped with a working air filter and blower can also help minimize dust exposure.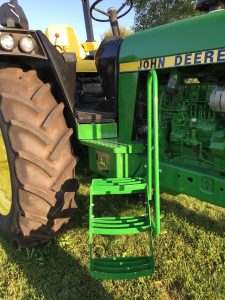 Depending on the type of tasks you'll be doing and when you'll be doing them, you'll want to consider other features. If your work involves frequent mounting and dismounting of the tractor, the number of steps and height of the tractor's steps to the ground is something to consider.