You've invested a lot of time, money, and effort to recruit top talent and retain valued employees for your farm business. Communication regarding total compensation can be a helpful tool to remind your team how valued they are. A discussion with each employee while reviewing their total compensation statement can increase engagement and retention, as well as improve the quality of your new hires.
What is a Total Compensation Statement?
A total compensation statement provides a detailed outline of an employee's direct and indirect compensation. Since employees have a natural tendency to focus simply on their net pay, a total compensation statement can help remind them of their "hidden paycheck" – the value of their benefit package. These statements encourage employees to think beyond the dollars and cents of their hourly wage and consider your overall financial commitment to them as their employer.
How can Total Compensation Statements help with Recruiting and Retention for your Farm?
While these statements are generally viewed as a way to increase engagement and encourage retention of your existing team, they can also be a way to improve your overall recruiting efforts. A look at total compensation is a way to encourage potential new hires with more than simply the starting wage you're able to offer. It also shows your longer-term commitment to employees, emphasizing your desire to offer a career versus just a job.
As a retention tool, these statements can help employees view pay a bit differently. Instead of thinking of their paycheck as salary plus a benefits package, a farm employee will hopefully start to think of their earnings and worth as salary plus the monetary value of the benefits package. That little shift in perspective, multiplied across your entire workforce, can make a big difference in overall morale and retention at your farm.
What to include?
Initially, using total compensation statements will take some time to develop a template that makes sense for your farm business. Once you've established a template, however, much of the information can be obtained directly from your payroll system.
To take a complete look at the investment you're making in your team, be sure to include:
Annualized wages, in total, including any overtime pay
Vacation/Paid Time Off/Sick Days or other paid leave
Bonuses
Mandated Federal benefits like Workers Comp, Social Security, Medicare
The value of insurance plan premiums paid by the farm (health, dental, vision, life)
Estimated value of employee use of the farm computer, printer, internet
The value of farm issued cell phones or other technology you provide
Farm provided meals, drinks, snacks
Transportation and/or personal use of farm vehicles
Professional development, career training, safety supplies, and/or uniforms
Any other employee perks unique to the farm: milk, beef, produce, Holiday turkeys, social events, etc.
See Figure 1 for an example Total Compensation Chart or download this sample Total Compensation Statement.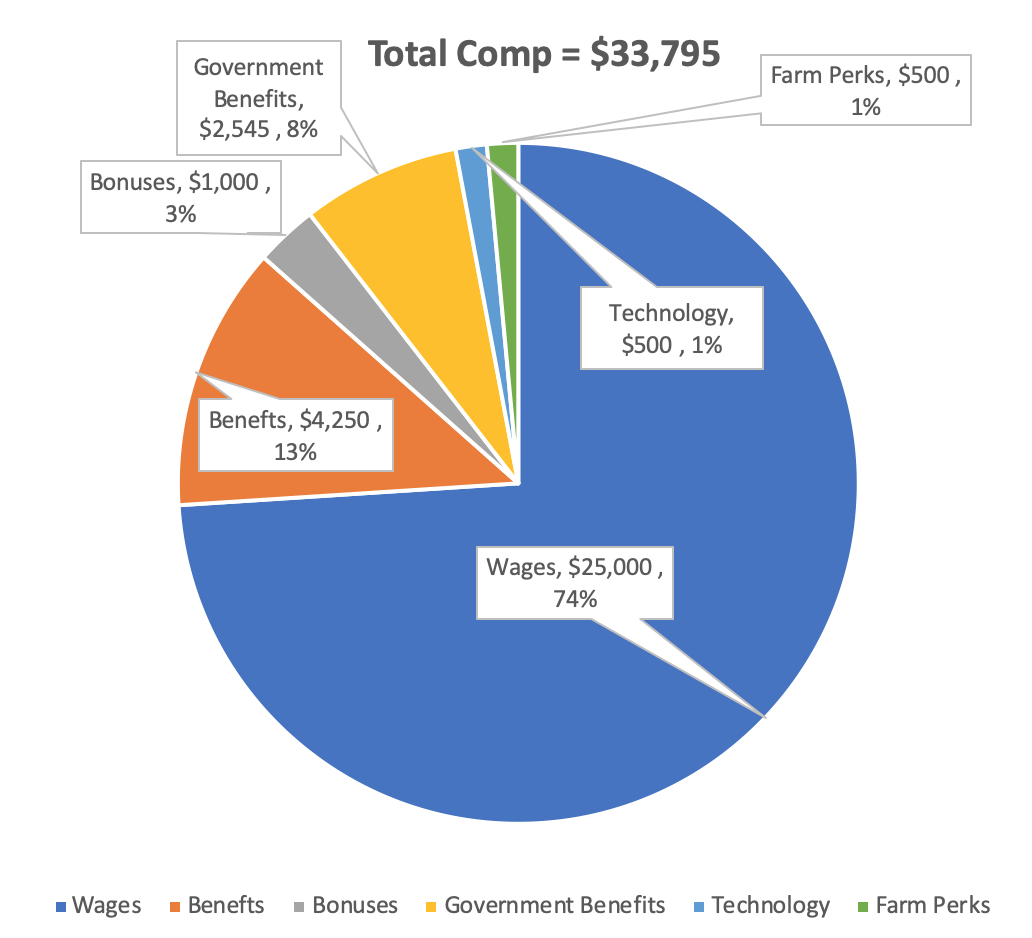 Make it personal
Your efforts to personalize the document can make employees feel special. Printing statements with the team members name, start date and years of service can show them that you took the time to organize a compensation statement that is particular to them. Make the statement visually appealing, use charts and graphs, and take the time to explain what each component means. Sit down with each employee and make sure they understand the information in the statement. This is also a great time to discuss what matters most too individual employees and to tell them, one-on-one, that they matter to you and to the future of the farm.
Once a year is not enough
While total compensation statements are often done annually in conjunction with a wage adjustment, it's helpful to reinforce the highlights with employees more often. During team meetings remind employees of the value of various components of the benefit package the farm offers. Devote a few minutes each month to cover an individual benefit. If you use a farm newsletter or bulletin boards, post reminders throughout the year of the perks of working at your farm.
In summary
The primary goal for focusing on total compensation is to show employees how much their efforts matter to you and the farm. Along with your efforts to build a positive workplace culture, total compensation communication helps instill a feeling of being valued and appreciated – something every employee needs.
Extension's Becoming the Employer of Choice program offers additional information about using total compensation statements to motivate your team, or other proven methods toward becoming an employer of choice.