Right now, farmers are finalizing 2023 crop production plans – making decisions on crop inputs, planting, and other practices. Farmers should also assess the risks for the upcoming 2023 crop year. The support that may be provided by various tools to manage production and marketing risk includes Farm Bill commodity programs, federal crop insurance, and marketing tools. 
ARC/PLC Decisions for 2023
Agricultural Risk Coverage (ARC) and Price Loss Coverage (PLC) programs remain in place for 2023, with sign-up occurring until March 15th. Farmers can choose ARC-County or PLC for their base acres. Payments will be based on marketing year average prices, from September 1, 2023 until August 31, 2024, with payments made, if triggered, in September or October 2024. More information and recommendations are available at – https://farms.extension.wisc.edu/arc-and-plc-recommendations-for-2023/. 
Crop insurance enrollment date is unchanged
Let's start with what has not changed. The common crop insurance policy options of Yield Protection (YP), Revenue Protection (RP) with the harvest price component, and Revenue Protection with the Harvest Price Exclusion (RP-HPE), and Catastrophic Coverage (CAT) remain the same for 2023. In addition, the Whole-Farm Revenue Protection (WFRP) policy remains unchanged.
The deadline for farmers to make crop insurance elections for the 2023 crop year is March 15th. This is the last date to apply for crop insurance coverage for any of the various Federal Crop Insurance Corporation (FCIC) policies or make changes in coverage from the previous year. Private crop hail insurance policies can often be purchased throughout the growing season. 
Planting dates changed
Earliest planting dates
Farmers must be aware of certain dates to ensure that certain actions don't impact crop insurance policies. Crops planted before the specified earliest planting date will not be eligible for replanting payments.
As Figure 1 details, the earliest corn planting date has been changed to April 10th for southern and central parts of Wisconsin, while northern WI counties have an early planting date of April 21st. 
Previously, the earliest soybean planting date was April 26th for all WI counties. Earliest soybean planting dates have been changed to April 15th for southern WI, April 20th for central WI, and April 30th for far northern WI. Farmers are encouraged to confirm the earliest soybean planting dates with crop insurance agents.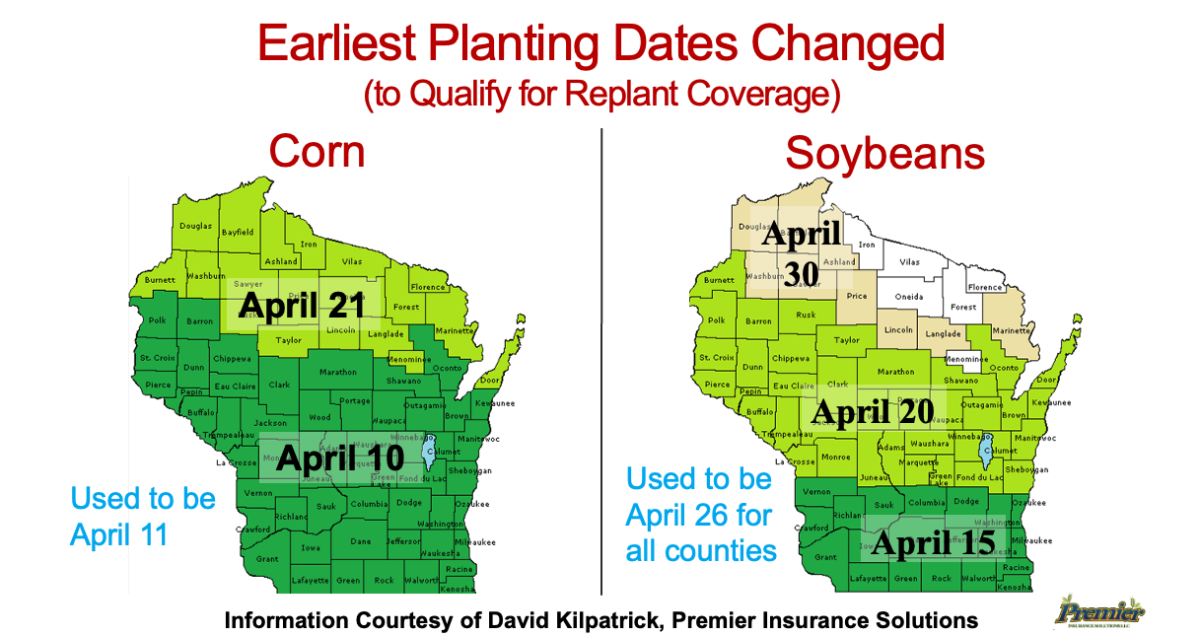 Final planting dates
Acres planted on or before a final planting date receive the full yield or revenue guarantee that was selected for crop insurance policy. Acres planted after this date receive a reduced guarantee. Acres not yet planted as of this date should be reported to the insurance agent within three days. The insurance provider may determine that it is practical to replant a damaged crop. This will generally be true for up to ten days after the final planting date for the crop.
The corn planting dates remain unchanged for 2023. The majority of WI final corn planting date is May 31st and June 5th for silage corn planting. Select counties in far northern WI have a final corn planting date of May 25th and silage corn planting of May 31st. 
The final date for soybeans to be planted without a reduced guarantee is June 15th for portions of southern WI. Central and northern WI counties have a final planting of June 10th. See Figure 2. 
End of late planting period
For certain crops, a late planting period begins after the final planting date and lasts for 25 days. For acres planted after the beginning of this period, the value of the yield or revenue guarantee is reduced day by day. This reflects the lower yield potential for late-planted crops.
After the late planting period ends, coverage remains at 55% of the original guarantee for corn and 60% of the original guarantee for soybeans. This is true even if the farmer is prevented from planting the crop if a substitute crop is not planted for harvest.
The end of late planting for corn is June 25th for the majority of WI counties. The end of the late planting period for soybeans is July 10th for portions of southern WI. Central and northern WI counties has an end-of-late planting of July 5th. See Figure 2. 
Soybean following another crop initiative
The USDA has chosen to reduce the economic risk of raising two crops on the same land in one year. Known as the double cropping initiative, USDA's RMA has increased the number of counties where soybeans or grain sorghum planted for harvest following another crop (FAC) in the same crop year is an insurable practice. In sum, the goal is to make it easier for producers to insure two crops on the same acreage in the same year. While the FAC practice is already insurable in some areas of the US, the initiative expands insurability and allows Wisconsin farmers the option to request coverage in select counties through their crop insurance agent. (https://rma.usda.gov/en/Topics/Double-Cropping-Initiative)
FAC is a cropping practice where a crop is planted following another crop, such as soybeans planted following winter wheat harvest. For soybeans, FAC coverage is an option for farmers in southern WI and certain western and eastern WI counties (https://rma.usda.gov/Topics/Expanded-Opportunities-for-Soybeans-and-Sorghum-Maps) along with a written agreement and three years of prior history producing the FAC soybeans as a prerequisite to qualify for a written agreement.
WI farmers will be required to have a written agreement to get personalized coverage. A written agreement is the process a farmer can go through to obtain individual crop insurance coverage in a county where soybeans are not insurable after a first crop. The producer will work with their agent and Approved Insurance Provider (AIPs) to obtain coverage. AIPs and crop insurance agents are familiar with the written agreement process as it has been a way farmers in certain counties can obtain coverage when it is not permanently available for their specific crop or practice.
Keep in mind, soybeans that will be following after a small grain, such as wheat, will have a much lower revenue guarantee (60% of original).
Oats RP policy
Crop insurance Revenue Protection (RP) is the most popular policy in Wisconsin, with 75%-80% of corn and soybeans planted being insured by RP policies. For insured corn and soybeans acres, 92% of corn and 95% of soybeans use RP policies.
Wheat crop in Wisconsin has planted acres (160,000–300,000 acres). Farmers who plant wheat use crop insurance for approximately 45% of planted acres, with more than 90% using RP policies.
Oats are an important crop in Wisconsin, ranking 2nd/3rd in the US for planted acres (130,000–300,000 acres). Wisconsin farmers have not used crop insurance for oats as only 7-10% of planted acres was insured between 2020 to 2022. Revenue protection will be available for oats beginning in 2023. Visit the RMA website for more information on small grain policies. (https://www.rma.usda.gov/en/Fact-Sheets/National-Fact-Sheets/Small-Grains—Buckwheat-Flax-Oats-and-Rye)
Crop insurance is sold and delivered solely through private crop insurance agents. A list of crop insurance agents is available at all USDA Service Centers and online at the RMA Agent Locator (https://www.rma.usda.gov/en/Information-Tools/Agent-Locator-Page). Producers can learn more about crop insurance and the modern farm safety net at USDA RMA (https://www.rma.usda.gov/en).