Planning for the future of a farm business is complex. There are many moving parts.   Extension's network of County Educators and State Specialists assist with workshops and one-on-one consulting with farm families working on their farm succession plans, including the communication, financial, and estate planning issues that surround farm succession.
The following three questions help farm businesses begin the process: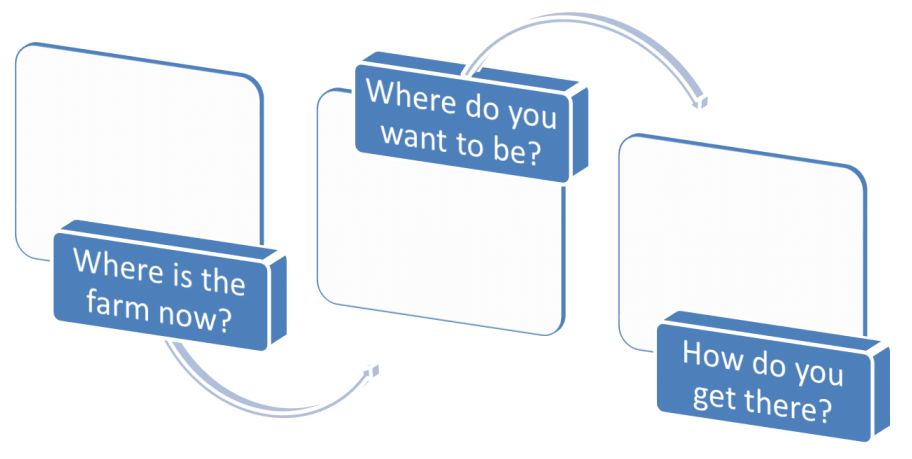 Where is the Farm Now?
Answering this question will provide a clear understanding for you, farm family/partners, consultants and/or facilitator to learn about the farm business situation, and understand "where" the farm is currently.
History of the Farm – How long has the farm been in the family, and who has been involved.
History of the family – Names, ages, professions, where they live, are they/will they actively participate in the farm?
Who is doing what – If there is a successor already working on the farm, it is important to know what he/she is doing, and how decisions being made, does that successor have an area of responsibility, have any autonomy to make some decisions? Are they also helping make long-term strategic decisions?
How the assets are owned – Does the successor have any farm assets? Are the assets owned by an LLC, Corporation or Trust? Who owns these structures and at what percentages?
How income AND expenses are distributed – If there is an imbalance, is there a sound reason for it?
Production data – this can sometimes help focus on where improvements can be made
Financial information – Gather the following information. You may start by working with a trusted advisor.
Balance sheets (2-5 years)
Income statement OR (Schedule F, Form 4797, first 2 pages of the 1040)
Benchmark data: compare your farm to others of similar size and management
Family living needs – know what everyone needs/expects from the farm
Retirement savings – farm assets are often retirement assets, what is needed and what exists.
Where Do You Want It to Be?
Answering this question will clarify the end goal for the process, for all involved or affected by the farm business.
It is important to consider your values and values of those individuals involved in the family and business. Consider the Vision for personal futures as well as the farm's future, and WHY is it important.  Consider the Mission and Goals of the farm.  This is also the time to evaluate the Strategic Issues facing your farm, including the strengths, weaknesses, opportunities and threats facing the business.
Next consider how this information will be communicated with those involved. What is the communication strategy when differences arise? How will decisions be made in a way that helps move the process forward? This may be a good opportunity to involve a facilitator or Extension Educator.
How Do You Get There?
Once a clear understanding of the current business and future goals are understood and communicated, it is possible to evaluate the technical options for the farm and determine which one(s) fit your farm and your goals.
You are now ready to consider the professional advisors you will need to work with. This may include legal advisor, certified public accountant, and financial advisor.  It is also important to consider a timeline for meetings and who will plan, and attend the meetings.
Your trusted advisors will utilize the information you have thought through and gathered. This will help them better serve your needs and goals.  They will be able to evaluate options with the financial information of your farm and goals you have in mind with such tools as enterprise and partial budgets in order to  provide a reality test for the future vision of your farm, evaluate alternative options and develop a robust plan that you are comfortable with.