Organizational (org) charts are a visual depiction of your farm's staffing structure. They define roles and clearly illustrate "who reports to whom," with connecting lines showing accountability and reporting relationships.
An org chart for your farm can help keep things running smoothly and efficiently by providing the following benefits:
Helping with onboarding new employees by clearly showing who to go to with questions.
Streamlining communication and reducing potential conflict from power struggles.
Identifying logical farm successors and facilitating career paths for their skill development.
Aligning job titles (levels) within your organization.
Defining otherwise confusing family member roles for non-family team members.
Action Steps:

1. Determine the structure that best fits your business.
While there are numerous different org structures used in large corporations, for most farms two primary structures are typical: flat and hierarchical.
Flat organizations have a structure with few levels of middle management between leadership and employees—or, in some cases, no middle management at all. Small organizations and startups often have flat structures because they have fewer employees and less of a need for hierarchical management (see chart below).

Hierarchical organizations use multiple levels of management and a "chain of command." Larger organizations use this structure to keep the span of control (the number of direct reports per leader) to a manageable size (see chart below).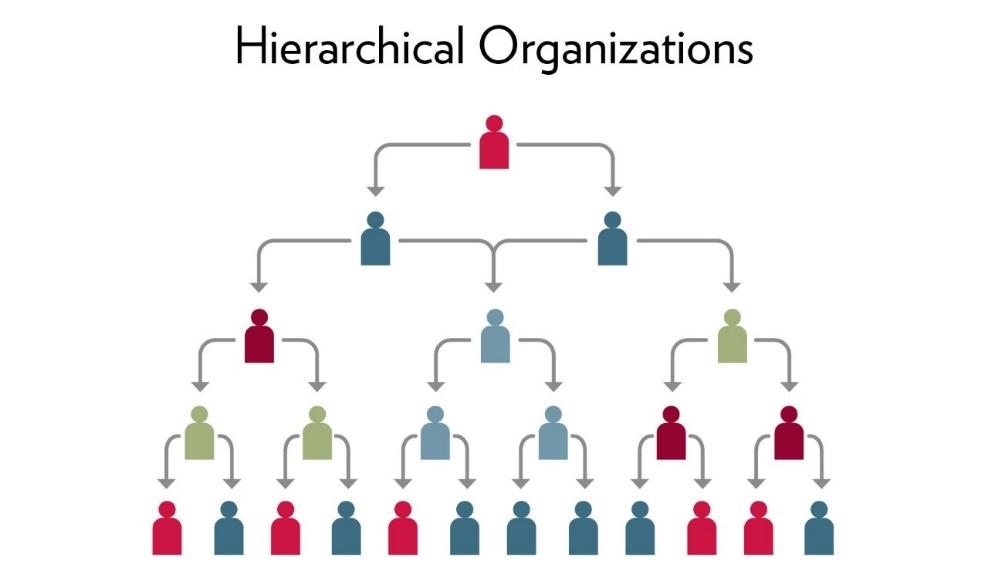 Each structure has distinct advantages:
Flat Org Structure
Avoids excess layers of management
Elevates employee's level of responsibility
Lends itself to small farms
Hierarchical Org Structure
Clearly defines "go-to" people
Provides more progression opportunities
Accommodates business growth
2. Define logical reporting relationships
If you choose a flat org structure, all (or nearly all) of the positions will report directly to the farm owner/manager. If you choose a hierarchical org structure, it will be important to identify "departments" with leaders who understand the accountability they will have for others' success. (This step often requires training and leadership skill development.)
3. Share with your team.
Communication is very important for new org charts to be received favorably. Meet with leaders first and make sure they are fully on board with the new structure. Then meet with your entire team to explain the benefits the org structure will provide. Here's a sample farm org chart:

Sharing org charts helps your farm business by demonstrating clear reporting structures for all employees. It creates a roadmap for how the work is to be done and the process required to ensure information is shared throughout the farm to the right individuals.