Interested in selling your milk for $50/cwt? Well, it takes about 12 pounds of milk to make a gallon of ice cream and selling the ice cream for $6 per gallon nets out a price of about $50/cwt. Better yet, what if you sell it by the 4-ounce scoop for $2.50 per scoop! Are you ready to sign up?
Before getting out your checkbook to invest, find a big stick and hit yourself over the head a few times! That doesn't mean you should not sign up, but it does mean do your homework first. Like Paul Harvey use to say, "here's the rest of the story." There's new equipment to buy, skills to learn, hiring of more employees, marketing, customer relations, food safety regulations, transportation, packaging, food inspections, direct competitors, advertising, manufacturing, public relations and, of course, you still have to milk, feed, breed, and take care of the cows.
There is also no guaranteed buyer. In the commodity business, we generally take for granted having a buyer for our milk. However, if you are selling ice cream, cheese, yogurt or agritourism, customers don't have to buy your product. In fact, if the combination of price, quality, packaging, advertising, and reputation is not as good as the product sitting next to it, then there is no sale.
Now that we have rubbed that bruise on your head a bit, there are opportunities to create a successful value-added business, but it is not as easy as what a headline article sometimes makes it sound. It took Leonardo da Vinci several years and multiple layers of glazes to create the Mona Lisa. A successful value-added business also has many layers, and, like the Mona Lisa, each must work together to create a model of business that works.
Two tools popular in the entrepreneurship world provide a way to begin – the "Business Model Canvas" developed by Alex Osterwalder and Yves Pigneur; and the Lean Start-Up method developed by Eric Ries.
The Business Model Canvas (Figure 1) is a one-page tool that shows nine key questions that lie at the foundation of any successful business. The Lean Start-Up method is an iterative approach for how to find the right answers to those nine key questions. It uses the scientific method of developing an assumption (hypothesis) and then gathering evidence to either validate or disprove that assumption.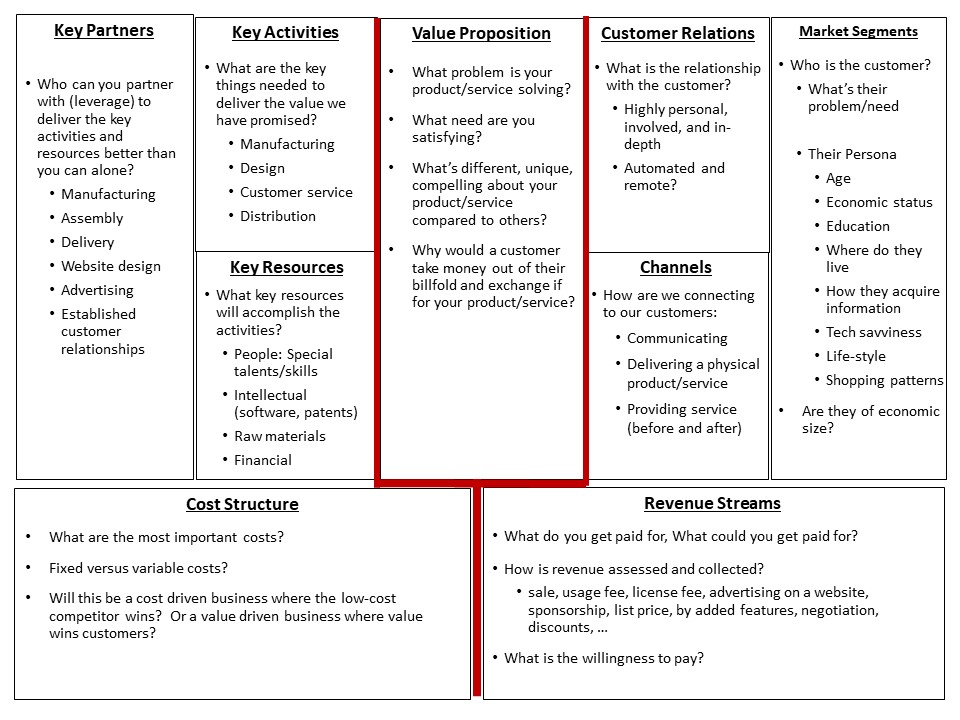 The three questions in the upper right part of the canvas – customer segments, customer relations and distribution channels – are focused on the customer's needs, wants and desires. The three parts in the upper left – key partners, activities, and resources – are internal needs that will enable the business to deliver on the customers' needs. The upper middle – value proposition – brings the two sides together through a statement that defines what, how and why we get paid around here! The bottom two parts describe cost structures and the potential path(s) to revenue.
The Canvas is a "living" document that starts by making initial assumptions of what you think will make a profitable business. However, all too often, this is where the planning of the business model stops. We know what we want, we assume everyone else is like us and so all we have to do is build it and customers will come with billfolds in hand. Maybe, but maybe not. The U.S. Bureau of Labor Statistics states that 20% of businesses fail in first year and 50% within five years. The reasons are many, but according to research, 42% of the failures were because customers didn't need or particularly want the product.
This is where the Lean Start-Up method kicks in. Instead of assuming the correctness of your initial assumptions, the next step is getting out of our office or barn and talking to potential customers and gathering evidence to either validate or disprove the assumptions. Ask them if what you propose is what they want and are willing to pay for. Ask them if your idea of how to get the product/service to them is what they want. Ask them if your assumed ideas solve their problem and create greater value for them such that they are willing to open their billfolds!
Most assuredly, at least some of the assumptions will be disproven. When this happens, you pivot to a new way of thinking and again go out and test its validity. This iterative process continues until you arrive at a business model that your research shows will work.
The Lean Start-Up method not only provides a process for accumulating evidence that your business will work, but it can be done with little cost. The process does not guarantee success, but it does increase the probability that you have a business idea that will work.
I previously taught a class where students were asked to develop a value-added agriculture business using the Business Model Canvas and the Lean Start-Up method. Student groups initially developed assumptions and then they left campus to interview potential customers. It was amazing to me how much their ideas changed through just a few interviews and except for a little gas money, it came at virtually no cost.
One group's idea was to direct market high quality beef at a premium price through farmer's markets. Their market segment was people with high disposable incomes who enjoyed entertaining and eating beef.
During their interviews they found out that this market segment indeed was interested in high quality cuts and willing to pay a premium. However, they did not have interest in going to a farmer's market and they wanted to know more about where the beef came from, how it was raised, and they wanted information on healthy options and preparation.
The students pivoted to a business model that included a very user-friendly website with on-line ordering, recipes, and cooking tips with each cut of meat, video cooking lessons, live chat, videos and information about the farm and its production practices. They also offered direct home delivery and more focus on smaller portions of meat. Another unique feature was a monthly prepaid subscription service that provided twice a month delivery, thus no hassles of having to shop at all.
Once they pivoted to this model of business, they also needed internal infrastructure that supported it, the biggest being the need for a high quality and responsive website that was continuously updated with new and exciting video feeds, content, and recipes.
In the end, their original idea was unrecognizable, but their new idea had the benefit of having been validated by actual potential customers. It was a class project, not a real venture. Could it have worked? It needed more testing for sure, but the process was working towards a business model that had a much higher probability of success than the original idea.
If you are enticed by the potential of a value-added enterprise, then three potential steps to start with tomorrow after breakfast. One, find the stick and hit yourself over the head until you are ready to do your homework.
Two, take time to learn more about value-added agriculture enterprises and about the Business Model Canvas and the Lean Start-Up method. Value-added enterprises are a very different way of doing business than the commodity model. Success on one does not at all ensure success in the other. A couple references are listed below and a google search will turn up many excellent videos and hundreds of articles.
Three, don't go it alone. In every state there are people and organizations that stand ready to assist. In my home state of Wisconsin, there is the Small Business Development Center, the Food Finance Institute, UW-Madison Division of Extension, and the Wisconsin Economic Development Corporation to name a few.
Is the thought of $50/cwt milk or people paying you for a "farm" experience tempting? Absolutely. Is there a potential that after much new investment the new value-added idea could spectacularly blow up along with your investment? Absolutely. Is there a potential to increase the probability of success? Absolutely. It begins by finding and researching a model of business that works for you. The Business Model Canvas provides the platform and the Lean Start-Up method the process for painting your Mona Lisa!
Resources