This report provides a statewide overview of agricultural land values across Wisconsin based on a statistical analysis of more than 8,000 actual sales from 2009-2019 and now includes the weighted average price of agricultural land sold in Wisconsin between January and October 2020.    The report includes land values versus rental rates, influencing factors, and implications for agriculture.  From 2014-2019, Wisconsin land values remained strong despite difficult economic conditions and substantial losses in the number of dairy farms.  The report provides data and information to describe the decrease in the average price of agricultural land sold in 2020.
Section One: State Level Overview
Section Two: Land Values Across Wisconsin
Section Three: Land Values vs Rental Rates
Section Four: Other Factors and Implications 
State Level Overview
The weighted average price of agricultural land sold in Wisconsin between January and October 2020 is $4,165 per acre. This is a 2.7% decrease from 2019. We must keep in mind that land values had grown significantly in 2018, so 2019 and 2020 might be seen as corrections to that upswing. The uncertainty brought by COVID-19 and the surrounding economic context may also explain some of this decrease by lowering prices and also limiting the number of transactions involving prime land in some areas. In comparison, the 2020 USDA estimates for farmland values also show a decrease of 0.8% at the national level. According to the USDA this was only the third time since 1988 that average farmland values decreased (2009 and 2016 were the other two years). This softening of land values occurred despite historically low-interest rates, improving commodity prices and farm income1.
As is discussed in other sections of this report, there are marked differences across the state with some regions faring better than others. Despite the difficult economic conditions and substantial losses in the number of dairy farms over the last few years, the land market has been supported by the ability of landowners to hold onto their property and limit the supply of land on the market. The vast majority of landowners, even those forced to exit dairy, were not necessarily forced to sell their land. Most could continue cropping or rent the land, thus limiting the supply of land on the market and help supporting market values. And in some areas, other factors like recreational value have helped maintain or even bring up land values.
Between 2015 and 2020 the average annual growth in Wisconsin agricultural land value was 0.9%. In comparison, between 2010 and 2014 the average annual growth in value was 4.0%. Still, returns to land in the last five years are comparable to other low-risk investments. Adding the capital gains of 0.9% to a rental income of about 3.25% 2 would give Wisconsin landowners an average annual return on investment of 4.15% for the 2015-2020 period. Given that farmland is a low-risk investment, this return is comparable to other investments such as low-risk corporate bonds which averaged 3.5% over that period. 3
Nevertheless, we have seen signs of a weakening demand over the last 2 years. The lower interest rates and the projected increase in overall farm income provide some hope for land values to remain steady in 2021, but the uncertainty in commodity markets, including dairy, may hamper any uptick in investment and land demand. It may take some time for the economic uncertainty to dissipate enough for land markets to warm up again. While the general economy, including investment, picked up during the third quarter of 2020, land values in Wisconsin have not seen any significant uptick so far. Data for the last quarter of 2020 and early 2021 will be telling on whether this was a short-term setback or if it signals longer-lasting impacts.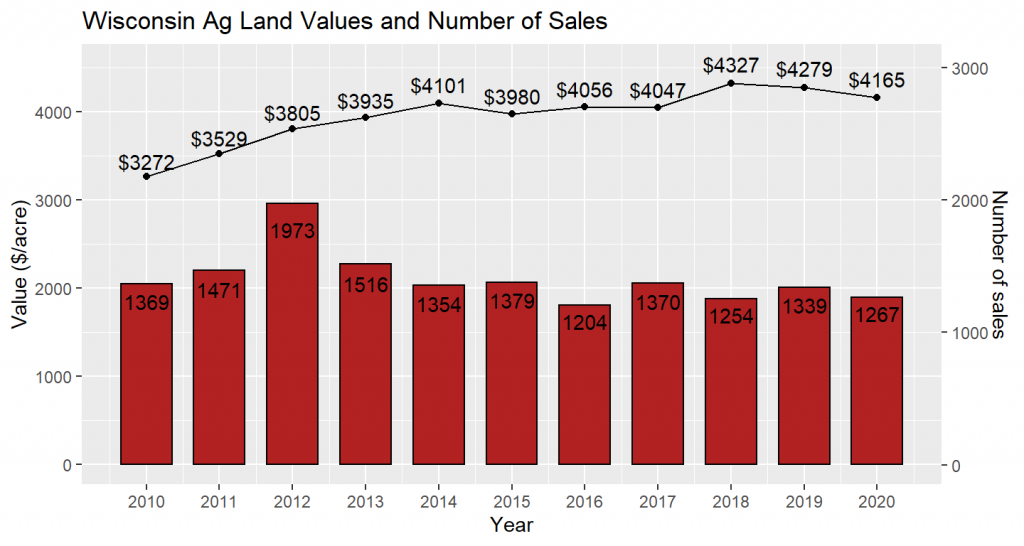 Farmland is the most valuable asset on most farmer's balance sheet. However, estimating land values is always difficult. Each individual parcel of land is unique. While many thousand homes are sold each year, only a small fraction of the state's agricultural land changes hands on the open market in any given year.
Surveys of farmers, bankers, real estate professionals, and appraisers are sometimes used to estimate changes in land values. While easy to conduct, these opinion surveys are subjective and can be difficult to interpret. News of high-priced sales travels quickly – but these sales are often the exceptions and not reflective of the market.
The Wisconsin Department of Revenue (DOR) collects an alternative source of agricultural land sales data. A transfer return tax is collected when a property is sold, and a transfer return form is collected with the tax payment. Information from these transfer return forms is the source for this paper.
Wisconsin's agricultural land values are low compared to some of our highly productive neighboring states – but a larger portion of our land is not suitable for continuous row crop farming and more of our land is used for forage production, woodlots and pasture. The shorter growing season in northern Wisconsin also limits the potential agricultural value of the land.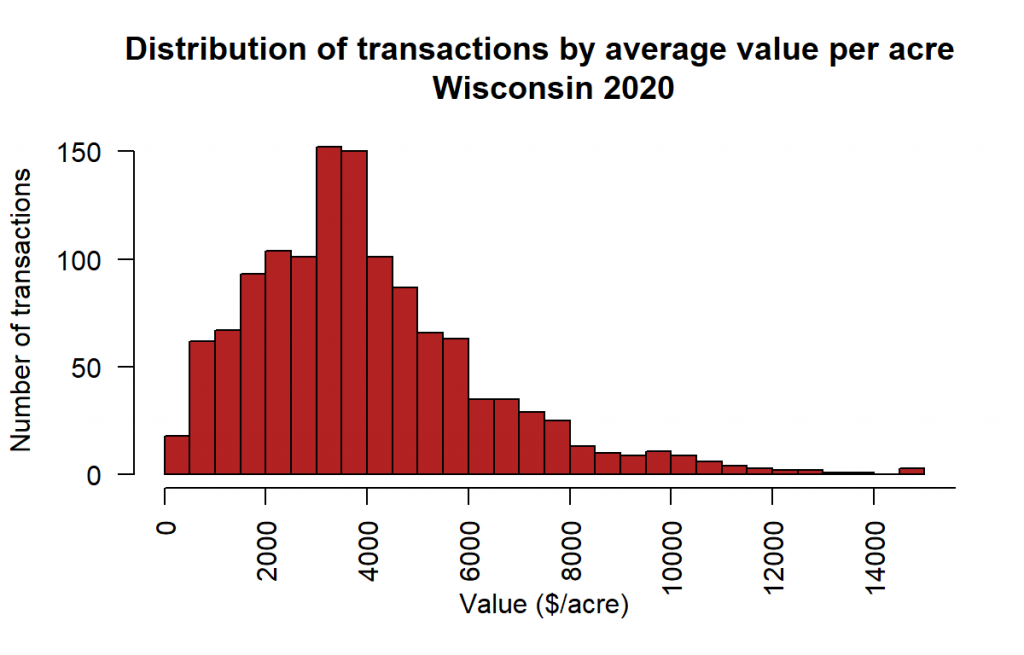 Obviously, there were wide variations in sale price per acre. In Wisconsin, about 25% of the sales were less than $2600/acre and only 18% of sales had prices above $6,000/acre. High priced sales make good headlines; however, there were very few sales above $10,000/acre (about 3% of all transactions).
Methodology
This statewide overview is based upon sales of bare land between non-related parties in Wisconsin townships. All parcels were between 30 acres and 500 acres and their predominant use was agriculture at the time of the sale. Properties with water frontage or managed forest acreage were filtered out. Parcels sold with retained property rights or with miscellaneous use notes referring to mining were excluded.
The Department of Revenue's transfer return data is an objective and relatively timely data source for measuring changes in agricultural land values over time. Later each year the Wisconsin Agricultural Statistics Service posts a summary of agricultural land sales – both bare land and improved properties. The NASS information uses the same transfer return data as this study, with one exception. The delay allows county assessors to collect and verify each parcel's intended future use.
There are a few other differences in our approaches. The NASS summary is not limited to parcels 30 acres and above and includes properties in cities and villages. Land markets can change quickly. Using only the transfer return data enables us to make an earlier assessment of the direction of land values. The NASS reports (which typically are updated in late summer) are another good alternative with more information about tillable land and land diverted from agriculture. The link to obtain the most current land summary is: http://www.nass.usda.gov/Statistics_by_State/Wisconsin/Publications/Land_Sales/. Between 2015 and 2019, 6524 bare agricultural land transfer returns were used to compute weighted average sale prices per acre.
All reported sale prices are weighted averages. Weighted averages reduce the influence of sales with unusually high or low sale prices. Weighted averages are computed by summing the dollars paid for all sales and the total acres sold in the county or NASS unit and then dividing the totals. For example, if four 100-acre tracts sold for $2000/acre and a 5th sold for $4000, but was only 50 acres – the weighted average would be (400*$2,000) + (50*$4,000)) /450 or $2,222/acre as opposed to the simple average of $2,400.
Land Values Across Wisconsin
Location is an important determinant of value. In addition to the state-wide averages, the map below shows the estimated cropland prices for most townships across Wisconsin. Those values are based on a statistical hierarchical spatial model4 which analyzed 8931 transactions between 2009 and 2019 to estimate agricultural land values in Wisconsin across space and time. It also uses information about land uses obtained from the Department of Natural Resources5. It is worth noting that any of the parcels involved in those transactions can represent a mixture of land uses such as cropland, pasture, woodland, wetland or even open water areas. The model takes this into account to estimate the average value of cropland in a specific area and a specific year. Link to an interactive map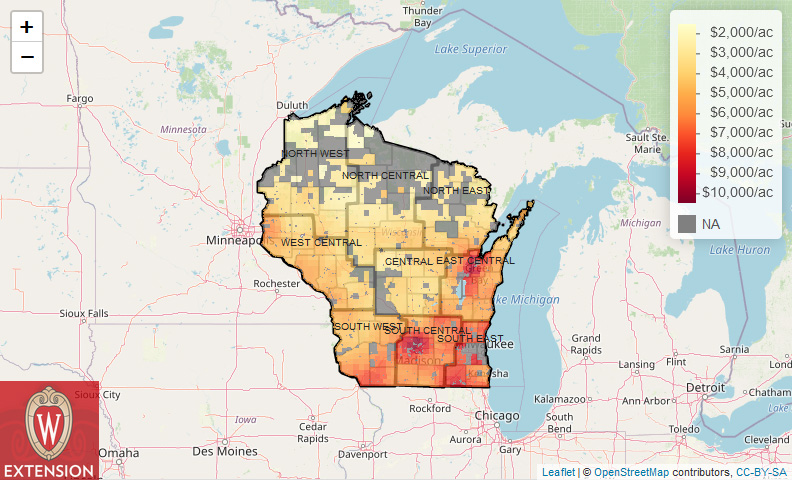 So far in 2020, a drop in land values was noticed in five of the nine agricultural districts. The most significant depreciation in land values occurred in North Central and East Central districts. Markets were stable in the other four districts : West Central, South West, North East and South East. In some cases, the recreational value of land has helped support the market. In other areas the drop in value seems to come from lower top-end sales, suggesting that either high valued farmland sold for less or that less of it has changed hands in 2020.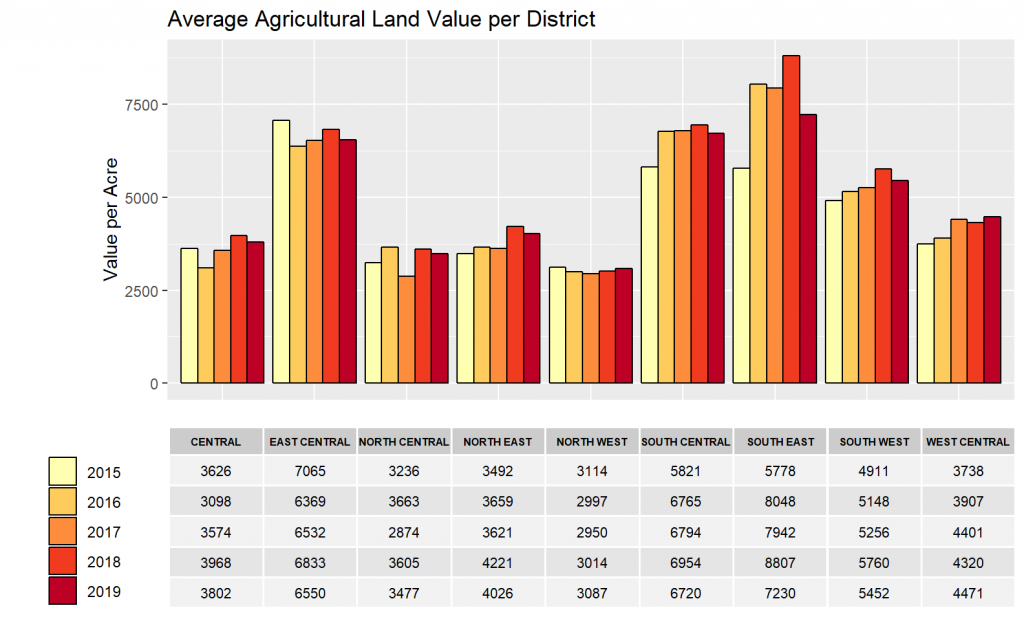 Land Values vs Rental Rates
The 2020 NASS Wisconsin average rental rate for non-irrigated cropland was $138/acre compared to $137/acre for 2019. The average rent in 2020 is about 3.3% of the state-wide average sale price. The figure below shows the rental rate per district for pasture as well as irrigated and non-irrigated cropland for 2020. The data is compiled by USDA National Agricultural Statistics Service. Even within a county, rental rates are highly variable. Some of the factors which affect rental rates are soil quality, field size, existing relationships between parties, and demand for nutrient management purpose.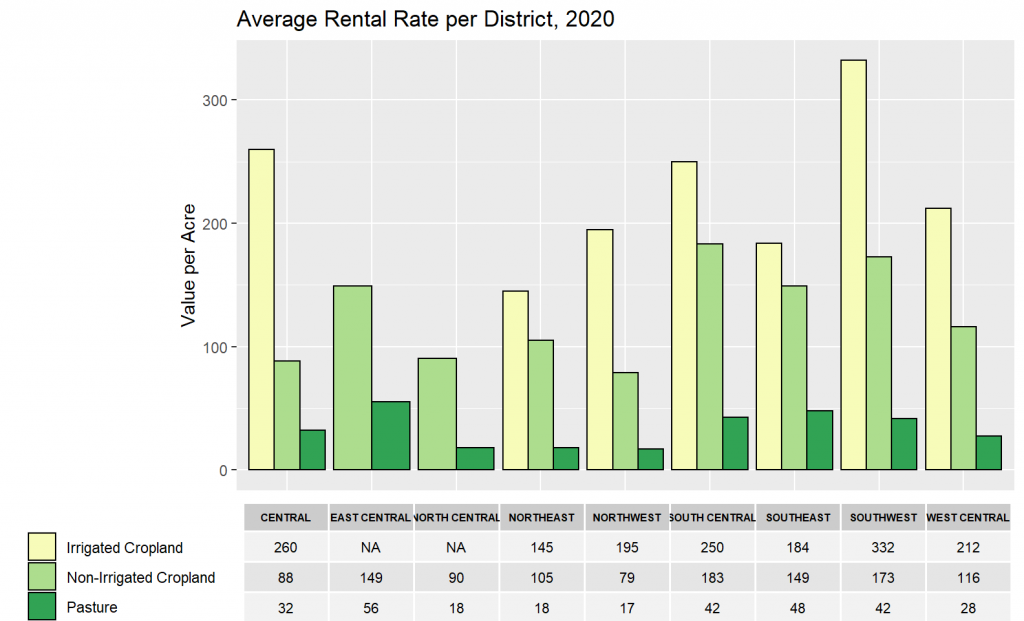 In recent years rent has been relatively high compared to land value. Basically, rent increased at 8.4% per year between 2010 and 2014, reflecting growing competition for land rental, while land values increased at a lower rate of 4.6%. This makes for higher returns to land ownership and reflects and reflects some degree of stickiness in the rental market. In other words, when rent increases at a higher rate than land values for a prolonged period, instead of a correction/decline in rent we usually witness a leveling off of rent in subsequent periods until land values can catch up.
The capitalization rate (i.e. Rent/Value) can be a useful tool to determine the rental value of land. Typically, rent represents about 3% of the land value, but it has been above 3% in the last 5 years.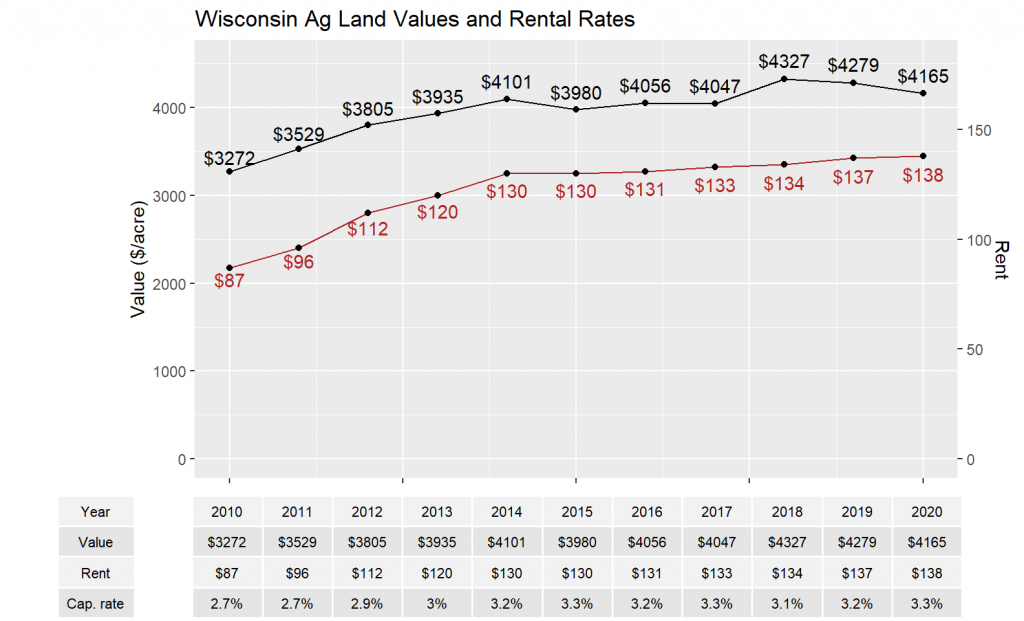 Other Factors and Implications
Besides location and land productivity/fertility, a number of other factors influence land values. Farmers represent the majority of farmland owners and buyers, therefore farm income and farmers' access to capital have a large influence on land values. Farm income has definitely taken a hit during the early part of 2020 and bounced back afterward. Yet, there remains a lot of uncertainty in the commodity markets. In contrast to other states dominated by crop production, in Wisconsin it is the milk price that has a predominant impact on land values rather than crop prices. This is because the value of land is often tied to its ability to produce feed for milk herds and the purchasing power of most buyers is defined by recent and projected dairy farm income.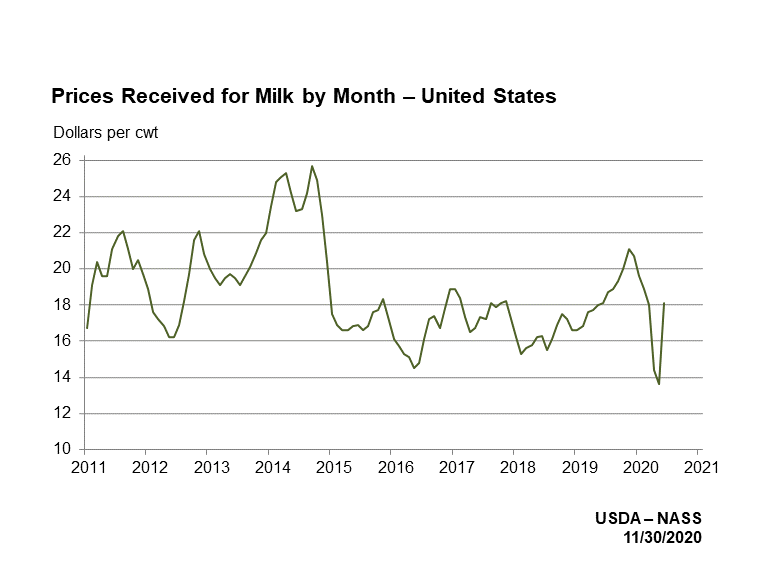 In recent years, the pressure created by growing environmental concerns and the concentration of livestock in some areas has heightened the value of land for nutrient management purposes. The map below shows a different measure of livestock production and concentration across the state. A first layer shows the number of licensed dairy farms (as of June 2020) within a 10-mile radius. It clearly identifies Clark County as having the highest density of dairy farms, with another concentration area in Monroe and Vernon counties. Those farms, however, are not necessarily the largest ones. Another map layer shows the location of all permitted CAFOs6 in Wisconsin (all types of livestock included). Those larger operations are concentrated in the eastern part of the state.
A more comprehensive measure of livestock concentration is obtained by looking at county-level data from the 2017 census of agriculture. This allows to calculate the number of animal units including all species of livestock7 per acre of agricultural land (cropland and pasture). This shows the direct link between pressure exerted by livestock production on local land resources. The map shows that the highest concentration of animal units per acre are found in Kewaunee, Brown, and Manitowoc counties. Jefferson County also shows a high concentration of animal units per acre, but represents a special case as it is mostly influenced by poultry production rather than dairy. Poultry production also has a high presence in the western part of the state (mostly in Barron and Trempealeau counties). Outside of the East Central region, Clark and Marathon counties show the highest concentration of animal units per acre related to dairy production. In some of those areas, livestock concentration and the demand for land driven by nutrient management purposes may be a dominant factor, even more so than crop and feed production.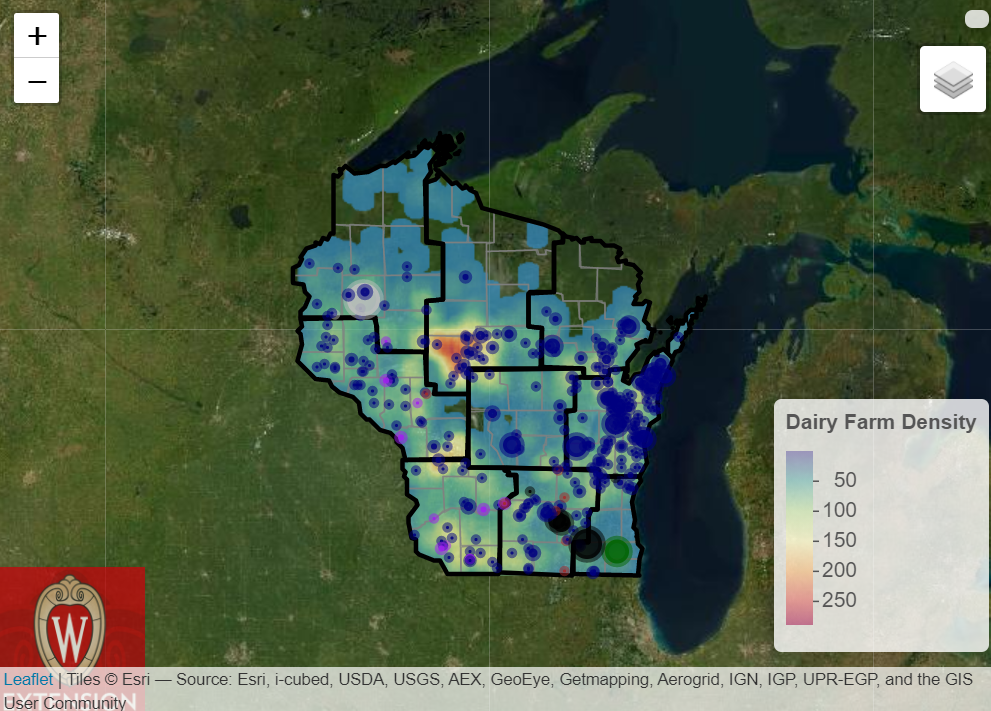 Producers' access to credit is also a key factor. Ever since the 1980s, the average interest rate on farm real estate loans has been trending downwards. The low-interest rates of the last decade have helped maintain real estate market values. While some inflationary tendencies pushed the interest rates up during 2019, the current COVID crisis has quickly brought them down again which could help stave off a major downturn in land markets. Despite the Federal Reserve's lower interest rates, farmers' access to capital could remain limited, contributing to a softening of the demand for land.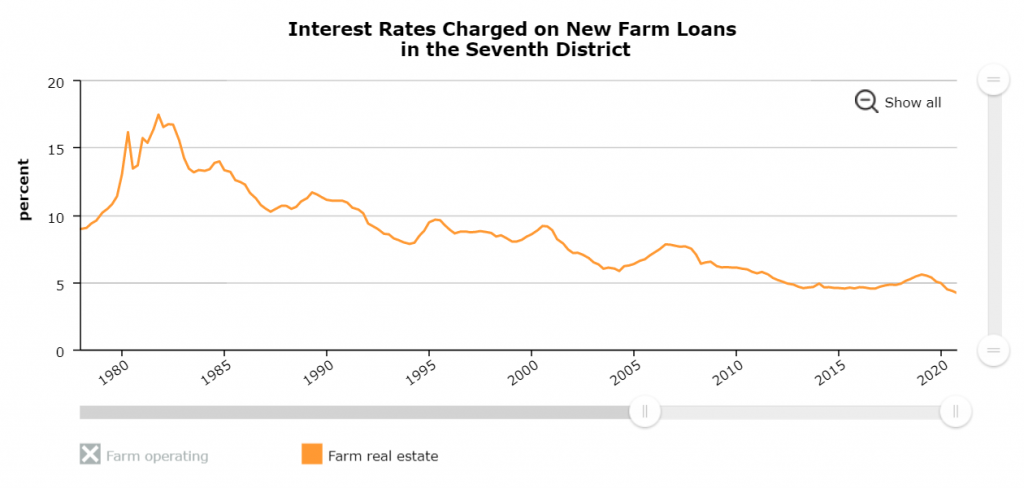 Another factor that can help stave off a major downturn in land values is the ability of the landowner to hold on to their property. The secret to successful real estate investment is the ability to hold on to the asset for long periods. As long as most landowners in a given area will be able to hold on to their parcels until the markets bounce back, the supply of land on the market will remain low and that can go a long way in supporting land prices.
---
1. See USDA-ERS Farm Income and Wealth Statistics for details
2. Farmland rental rates usually represent about 3% to 3.5% of the land market value. For example, land valued at $3,000/ac would usually rent for $90/ac. to $105/ac., and land valued at $7,500/ac. would usually rent for $225/ac. to $260/ac.
3. See Moody's Seasoned Aaa Corporate Bond Yield for details
4. See Dong, Harris, and Mimis (2016) for more details
5. See Land Cover Data (Wiscland)
6. See Moody's Seasoned Aaa Corporate Bond Yield for details